RULES & CONDITIONS OF ENTRY
Our aim is to provide organised trail riding events for the public to come and ride on private property, through marked and surveyed countryside, with all the trails being in one direction only.
Club officials and First Aid Officers are in attendance to provide assistance if riders have an accident and are injured. We also send out sweep riders around the track, their job is to monitor the track and to assist were possible with any problems or injuries on the track. Most sweep riders will have a radio with them to report back to base any problems/injuries that have occurred on the track, this is to ensure a quick and safe recovery.
Please note that it is a condition of entry that ALL persons under 18 years of age must be accompanied by a responsible adult (Parent or Guardian). Proof of age will be required. No membership, licence, or vehicle registration is required to ride an RTCB Trail Ride Series event.
No Quads or Trikes are allowed at Trail Rides.
ABOUT THE PROPERTIES
Privately owned farmland;
Flora and Fauna is protected;
Property is available for the duration of the trail ride only; and
Unauthorised entry at other times will be dealt with as trespassing and will result in the property being unavailable for future use.
For more specific information about the venues, including directions, please click here.
ABSOLUTELY NO RIDING IN CAR PARK AREAS. Bikes must be pushed to and from designated start and finish assembly areas – it is acceptable to walk next to your bike with engine running.
Riding of motorcycles is permitted ON MARKED TRAILS ONLY.
All trails are ONE WAY DIRECTION ONLY to avoid accidents.
If you are injured, tired or your bike is damaged, stay near the trail and seek help from other riders or await RTCB patrol. Only the trails are patrolled by sweep riders.
All injuries to be reported to the Ambulance Officers on site.
If faster riders approach, move over and let them through as soon as possible. Remember, it is not a race.
All bikes must have an effective/silencer muffler fitted. Due to Property Owners position with Local Landholders:
NOISE REGULATIONS WILL BE ENFORCED. NOISY BIKES AND THEIR OWNERS WILL BE EVICTED, OTHERWISE PROPERTIES WILL BE UNAVAILABLE FOR FUTURE USE.
Helmets and boots must be worn whenever riding. NO open type of footwear. Please note "tear-offs" are not permitted to be used at our venues.
Adequate quantity of drinking water to be carried when riding.
Anyone under the age of 18 must be accompanied by a Parent or Guardian, who will be responsible for them while at the event.
All riders on the PeeWee trail are required to have a Parent/Guardian in attendance at all times.
Riders must not participate in the event whilst under the influence of drugs or alcohol (as defined in the Queensland road rules).
Always obey the instructions of RTCB officials as they have the right to enforce these rules and immediately remove offenders from the trail ride. NO SECOND CHANCES.
Dogs are NOT permitted to enter the venues.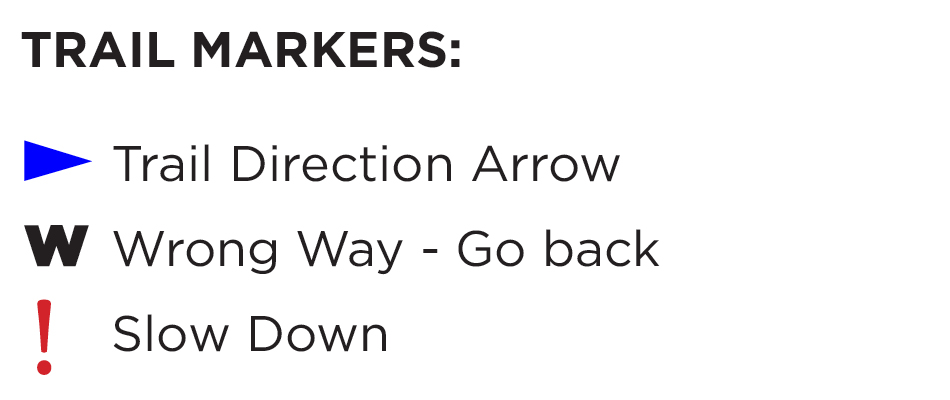 RIDE INFORMATION
There are 3 areas that are established:
1. Pee Wee Track
This track is for the riders that are inexperienced and are learning, and those that are on Pee Wee 50's that are too little to make it around the Learner trail.
The track consists of a flat section of land that is clearly marked out with tape the whole way round with a few bends so as to give some turning practice. Riders that are very comfortable riding this track may want to progress to the Learner trail.
2. Learner Trail
This trail consists of many elements of an enduro trail but is set up so that learner riders are able to complete the trail.
The Learner trail is for those that are not yet capable of doing the Open trail. The only experienced riders that may use this trail are those that are following a learner rider around the trail to assist them. Riders that are very comfortable riding this trail may want to progress to the short loop of the Open trail.
3. Open Trail
The Open trail is for experienced riders. This trail has every thing in it that the terrain has to offer, hill climbs and decents, fire roads, rocks, creeks, sand, mud, everything that an enduro trail should have.
The trail is typically divided into 2 loops, a long and a short loop. The short loop is basically there to cater for those less experienced riders that find the Learner trail too easy and the long loop too challenging. The long loop may be divided into sections so keep a look out for our well signed SPLIT/s and trail MERGE/s.
CASH ONLY | NO CARDS | NO CHEQUES
Venue Entry: 7am to 1:30pm
Riding Starts: 8am – not before
Trails Close: 2.30pm sharp
FORMS
Please click on the form to dowload.
FREQUENTLY ASKED QUESTIONS
Is camping allowed at the event?
All our events are a one day trail ride only. No camping is available at the venues. Some camping may be available within the local region near the venues – please search Google for more info.
Will I be able to ride with steel cap work boots at one of your events?
It is up to each rider to ensure they have appropriate protective gear for their own safety. There is also a little guidance about that on our website here.
Are kids, on small bore bikes, who are competent riders, allowed on the short (or main) enduro loop?
Yes, access to all our trails is based on the riders ability (self assessment), not age or bike size. Remember, Parents/Guardians are responsible for their kids during the event.
Does "Anyone under the age of 18 must be accompanied by a Parent/Guardian, who will be responsible for them while at the event", mean that the responsible adult must ride with them on the trails?
No, but Parents/Guardians are responsible for their children under the age of 18 during the event. When a child is on the peewee trail a parent or guardian must be in attendance at all times. Please make sure your children understand the event rules here before participating in the event.
Do you allow Pit Bikes at your trail rides?
All types of 2 wheel bikes are permitted at our events. It is up to the entrants to self assess that their bike is in a safe condition. The other requirement is that they must have an effective muffler fitted so that we don't get any noise pollution issues. Most standard exhaust systems will comply.
Do you allow Quad Bikes at your trail rides?
NO, only 2 wheel bikes are permitted at our events.
I want to become a volunteer / member & would like to know the options for payment of membership fees?
Please see the Event Manager at any of the Public Club Rides for current membership application information. Memberships are only accepted at the Public Club Rides, do not mail in a membership form.
What if I want to find out some information that is not on the website about the club or any rides?
Please call us on 0488 368 722.
Still have questions?
Please get in touch via this form or call us on 0488 368 722.
NB: We are all volunteers and as such we apologise if there is a little delay in replying to emails